February 9th, 2008
Someone contacted me recently to see if i was still alive. It had been so long since a post to davauer.com that she thought I might have died or something. I feel flattered that someone must have logged on to the blog more than once in a six month period, but burdened by the idea that i must post to keep myself alive.
I know blogging looks like the most glamorous thing in the world right now with all the press it gets from confused adults above 50 but it ain't like being a movie star or anything. Will Smith may be the most liked man on Earth in both movies and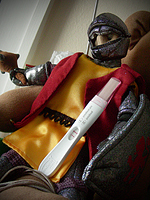 music, but hey, he doesn't have a blog. "That's because he's the most liked man on Earth and doesn't need to desperately write to no one in particular to get attention" you say, well… yeah, so? Anyway, I understand the burden under which I've placed myself and I plan to rise to the occasion. How am I going to quit my job and live on Google ad click-through revenue with only four posts a year?
It's Orion's first birthday today. I had planned many posts about the singular hysteria of the first year of first-time parents. The year seems empty now. No crazy diaper stories. A lot of nights with plenty of sleep. Seems weird to think my one year old son would be babbling incoherently while I write this.
A year from now though, I will be posting for three. In fact, starting in September I should have plenty of stories that revolve around the complex topic of doo doo.
(No worries, from day one the baby and the pee-stick of destiny have been under the protection of the fearless and noble Sir Gawain)