November 4th, 2006
They say that when a leaf falls a flower petal grows… Or is it that when boat sinks an airplane takes off? Um, when winter comes heating prices go up?? I think what I'm trying to say is that sometimes one life is replaced by another.
Alas, Squeak's legacy has passed into the history of the Davauer Scrolls. But hark!, it will be replaced by the coming of the less hairy (temporarily that is considering his/her gene pool) heir to the Davauer fortune or at least to the ownership of this domain.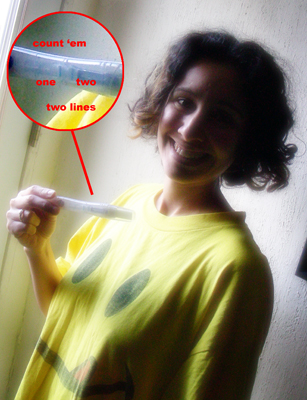 It has been forseen by the great pee-stick of 99.9% accuracy. Rachel and Nat have seen "The Mark" that predicts the chosen one will come. The line that is followed by the other line appeared in conjunction confirming the great prophecy will be fulfilled. A new Davauer is coming!
This will now give me something to blog about that isn't completley made up even if it is less interesting. Does the internet need someone else blogging about their baby? Good question. One that can only be answered by user feedback. I expect everyone to comment on every post so I can quit my job and earn a living boring the whole of Cyberspace about how someone somewhere had a baby a la dooce.com.
I will however promise our baby will be the most interesting baby to read about on the internet. Think of it as a reality show the likes of which has never been seen. Two Thirty-somethings Have a Baby. Hmm.. or better yet "Project Baby: America's Top Thirty-Somethings Survive Having a Baby That Might be a Big Brother Some Day." Solid gold!